Unfortunately, there are a lot of scammers out there who try to take advantage of people for their financial gain. It's important that you are always vigilant regarding your online presence and financial information, and this includes using ParkMobile to pay for parking.
Here are some tips to avoid getting scammed.
Watch for fraudulent QR code stickers. Scammers have been known to put fake QR code stickers on parking meters or other parking signage. These QR codes will direct you to a fake website looking to obtain your financial information. If there is a QR code on the meter, make sure to look closely to ensure it is part of the sign and not just stuck on. If you have concerns or something doesn't look right, do not use that QR code and just go directly into the ParkMobile app and enter the zone number. Below is an example of a legitimate sign and one that is fraudulent.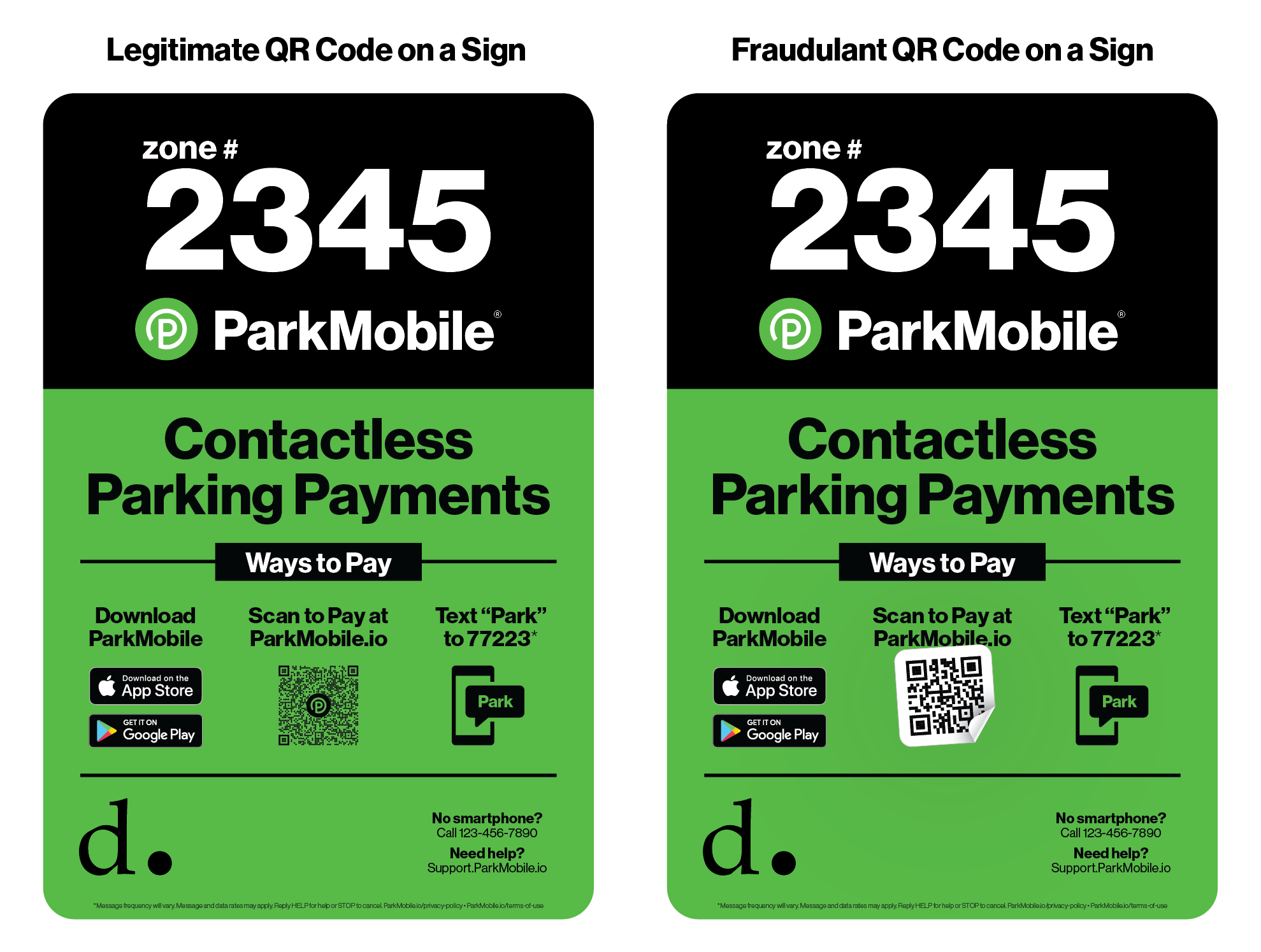 If you scan a QR code, make sure the website it directs you to looks legitimate. Scammers will build fake sites that ask for your financial information. If the site looks suspicious in any way, do not use it. Check the URL for the website to make sure it is the app you are trying to use. For example, if you are trying to use "ParkMobile" and the URL you see is https://park-space.xyz, that could be a fraudulent link. The ParkMobile web app URL should always start with app.parkmobile.io. If you have concerns, close your browser and go directly into the ParkMobile app or the parkmobile.io website.
If you see something suspicious around the meter, report it to the police. If you notice an unusual QR code sticker on the meter, you should report it to the police so they can immediately investigate.
Constantly monitor your credit cards and bank accounts to ensure you recognize all the charges being made. It is good practice to frequently check the charges and transactions on your credit card and bank statements. If you see something unusual, report it.
Utilize a credit monitoring service. There are many services that monitor your credit report for any changes that can be linked to fraudulent activity.
Change your online passwords. Experts recommend changing your online passwords every three months and not using the same password across multiple sites. Strong passwords should contain 10-15 characters and include upper and lower-case letters, numbers, and symbols. You can learn more about the steps you can take to improve your online security at the Federal Trade Commission's website.
If you have other questions or concerns regarding potential scammers, you can reach out to our Member Services team via chat or by submitting a support request here in our Help Center.